CHER 33rd Annual Conference - Promoting Closer Relations and Scholarly Dialogues between European and Asian Higher Education Researchers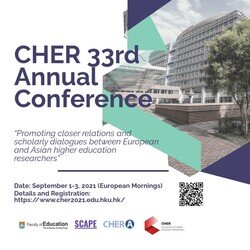 Our Faculty's Consortium for Higher Education Research in Asia (CHERA) and the Social Contexts and Policies of Education (Academic Unit) (SCAPE) will co-organise the Consortium of Higher Education Researchers (CHER) 33rd Annual Conference between September 1-3, 2021 (Wednesday-Friday) online. This is the first time in CHER's history that the conference is hosted from Asia.
This historic event promotes closer relations between Europe and the Asian region at a time when dialogue among scholars and scientists can help address significant issues that influence the development of higher education systems.
The conference will be panel-oriented, which highlights the exchange of ideas, values, and from this exchange establish similarities and differences that can promote the launching of collaborative research for the near future.
For details and registration, please visit: https://www.cher2021.edu.hku.hk/