May 31, 2023 - August 31, 2024 (Wed-Sat)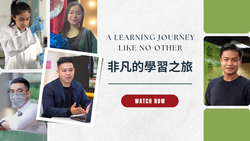 Many of our students enjoy studying and extra-curricular activities at the same time to live a fruitful and memorable university life.
To share the unique experiences, distinctive journeys and remarkable stories of our elite students and graduates, we would like to present you our video series entitled "A Learning Journey Like No Other".
More videos will be followed – please stay tuned!
Keep up with Emerging Technology
Zac Lee
Bachelor of Science in Information Management
努力必定有成果
簡煒鈺
教育學士(幼兒教育及特殊教育)
「粵」學愈精彩
韓德光
文學士及教育學士(語文教育)— 中文教育
A Strong Foundation for a Dedicated Speech Therapist
Jason Lai
Bachelor of Science in Speech and Hearing Sciences
Innovating Science Teaching with the Love for Art
Alya Prasad
Bachelor of Education and Bachelor of Science