Left Menu
知識交流工作坊 - 超級中英閱讀理解小博士 KE Workshop: Becoming a Skilled Comprehender in both Chinese and English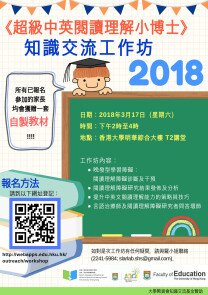 Date
March 17, 2018
Time
14:00 - 16:00
地點 Venue

香港大學明華綜合大樓T2講堂

Lecture Theatre 2 (T2), Meng Wah

Complex, HKU

查詢 Enquiry

羅小姐

2241 5984

slarlab.shs@gmail.com
Registration
---
香港大學教育學院及轄下言語、語言和閱讀實驗室將舉辦

「超級中英閱讀理解小博士」

知識交流工作坊。
透過此有關兒童閱讀理解障礙工作坊,參加者能了解更多兒童閱讀理解障礙研究結果及分析,以及提升兒童中英文閱讀理解能力的策略與技巧。
內容:
晚發型學習障礙:閱讀理解障礙診斷及干預

閱讀理解障礙研究結果發佈及分析

提升中英文閱讀理解能力的策略與技巧

言語治療師及閱讀理解障礙研究者問答環節
詳情如下:
日期:2018年3月17日 (星期六)
時間:下午
2
時至
4
時
地點:香港大學明華綜合大樓
T2
講堂
(
地圖
)
語言:粵語為主;其中一位講者以英語主講
費用:全免
網上報名:
http://webapps.edu.hku.hk/outreach/workshop
查詢:羅小姐
(
電話:
2241 5984
;電郵:
slarlab.shs@gmail.com
)
歡迎公眾人士參加!
大學教資會知識交流基金贊助
HKU Education KE Workshop on "Becoming a Skilled Comprehender in both Chinese and English"
The Faculty of Education and its Speech, Language and Reading Lab will organize a KE Workshop entitled

"Becoming a Skilled Comprehender in both Chinese and English"

. In the workshop, participants will learn how to tackle dyslexia or reading comprehension difficulties of children.
Content:
Late-emerging learning difficulties: diagnosis and intervention for reading comprehension difficulties

Result sharing on reading comprehension research

Suggestions and strategies for promoting children's Chinese and English reading comprehension development

Q&A session led by speech therapist and reading comprehension researcher
Details:
Date: March 17, 2018 (Saturday)
Time: 2:00 pm – 4:00 pm
Venue: Lecture Theatre 2 (T2), Meng Wah Complex, HKU (
map
)
Language: The speakers will present in Cantonese and one of them will present in English
Fee: Free of charge
Online registration:
http://webapps.edu.hku.hk/outreach/workshop
Enquiry: Ms Law (Tel.: 2241 5984; Email: slarlab.shs@gmail.com)
All are welcome!
Sponsored by Knowledge Exchange Fund, University Grants Committee
TOP