Left Menu
Theoretical Frameworks and Research Methods for Studying Language Teacher Identity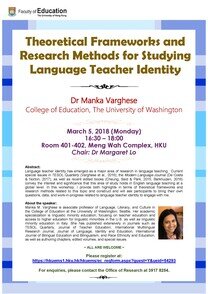 | | |
| --- | --- |
| Date | March 5, 2018 |
| Time | 16:30 - 18:00 |
| Chair | Dr Margaret Lo |
| Speaker | Dr Manka Varghese |
| Venue | Room 401-402, Meng Wah Complex, HKU |
| Media | |
Registration
---
Theoretical Frameworks and Research Methods for Studying Language Teacher Identity

Dr Manka Varghese
College of Education, The University of Washington

March 5, 2018 (Monday)
16:30 – 18:00
Room 401-402, Meng Wah Complex, HKU
Chair: Dr Margaret Lo

Abstract:
Language teacher identity has emerged as a major area of research in language teaching. Current special issues in TESOL Quarterly (Varghese et al., 2016), the Modern Language Journal (De Costa & Norton, 2017), as well as recent edited books (Cheung, Said & Park, 2015; Barkhuizen, 2016) convey the interest and significance that this area of study holds in English language teaching at a global level. In this workshop, I provide both highlights in terms of theoretical frameworks and research methods related to this topic and construct and will ask participants to bring their own questions, data, and work-in-progress related to language teacher identity to engage with me.

About the speaker:
Manka M. Varghese is associate professor of Language, Literacy, and Culture in the College of Education at the University of Washington, Seattle. Her academic specialization is linguistic minority education, focusing on teacher education and access to higher education for linguistic minorities in the U.S. as well as linguistic minority education in Italy. She has published extensively in journals such as TESOL Quarterly, Journal of Teacher Education, International Multilingual Research Journal, Journal of Language, Identity and Education, International Journal of Bilingual Education and Bilingualism, and Race Ethnicity and Education, as well as authoring chapters, edited volumes, and special issues.

~ ALL ARE WELCOME ~

Please register at: https://hkuems1.hku.hk/hkuems/ec_regform.aspx?guest=Y&ueid=54293

For enquiries, please contact the Office of Research at 3917 8254.
TOP