Left Menu
SES and Chinese preschoolers' receptive language: Potential ways to close the gap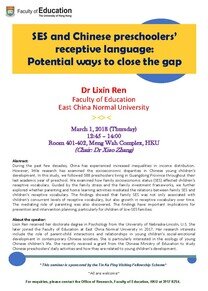 | | |
| --- | --- |
| Date | March 1, 2018 |
| Time | 12:45 - 14:00 |
| Chair | Dr Xiao Zhang |
| Speaker | |
| Venue | Room 401-402, Meng Wah Complex, HKU |
| Media | |
---
SES and Chinese preschoolers' receptive language: Potential ways to close the gap

Dr Lixin Ren
Faculty of Education
East China Normal University

March 1, 2018 (Thursday)
12:45 – 14:00
Room 401-402, Meng Wah Complex, HKU
(Chair: Dr Xiao Zhang)

Abstract:
During the past few decades, China has experienced increased inequalities in income distribution. However, little research has examined the socioeconomic disparities in Chinese young children's development. In this study, we followed 588 preschoolers living in Guangdong Province throughout their last academic year of preschool. We examined how family socioeconomic status (SES) affected children's receptive vocabulary. Guided by the family stress and the family investment frameworks, we further explored whether parenting and home learning activities mediated the relations between family SES and children's receptive vocabulary. The findings showed that family SES was not only associated with children's concurrent levels of receptive vocabulary, but also growth in receptive vocabulary over time. The mediating role of parenting was also discovered. The findings have important implications for prevention and intervention planning, particularly for children of low-SES families.
About the speaker:
Lixin Ren received her doctorate degree in Psychology from the University of Nebraska-Lincoln, U.S. She later joined the Faculty of Education at East China Normal University in 2017. Her research interests include the role of parent-child interactions and relationships in young children's social-emotional development in contemporary Chinese societies. She is particularly interested in the ecology of young Chinese children's life. She recently received a grant from the Chinese Ministry of Education to study Chinese preschoolers' daily activities and how they are related to young children's development.

* This seminar is sponsored by the Tin Ka Ping Visiting Fellowship Scheme*

~All are welcome~

For enquiries, please contact the Office of Research, Faculty of Education, HKU at 3917 8254.

TOP