Left Menu
元音訓練計劃研究結果分享會 Research Dissemination Seminar on English Vowel Training Programme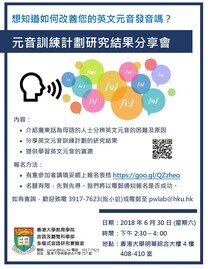 | | |
| --- | --- |
| Date | June 30, 2018 |
| Time | 14:30 - 16:00 |
| Venue | 香港大學明華綜合大樓4樓408-410室 |
| Media | |
Registration
---
想知道如何改善您的英文元音辨認能力嗎?
香港大學教育學院 言語及聽覺科學部 多模式言語研究實驗室於2017-18 年度進行一項英文元音訓練計劃。計劃目的是通過有效的電腦感知訓練,幫助以廣東話為母語的人士掌握英文元音。
本計劃利用五種不同的感知訓練方法,幫助以廣東話為母語的人士改善英文元音的辨認能力及發音。本計劃第一階段的數據分析經已完成。由這些數據所得,五種訓練方法均有效提高參加者的英文元音辨別能力。通過分析,我們亦得知學習英文元音的重要因素。
本實驗室將於本月舉行分享會,解釋研究背後的理論及結果, 並提供英文元音發音的相關資料。詳情如下:
日期:2018年6月30日(星期六)
時間:下午2時30分至4時正
地點:香港大學明華綜合大樓4樓408-410室(地圖:https://goo.gl/qJGzzr )
有意參加者請填妥網上報名表格 https://goo.gl/QZzheo。名額有限,先到先得。我們會用電郵方式通知閣下報名是否成功。如有查詢,請電郵至 pwlab@hku.hk 或致電3917 7623向甄小姐查詢。
Do you want to improve your perception and production of English vowels?
The Multimodal Speech-Language Research Lab of the Division of Speech and Hearing Sciences, Faculty of Education, HKU, conducted a research study on English vowel training in 2017-2018.
The study compared the effectiveness of five computer-assisted perceptual training programmes in improving English vowel perception and production in Cantonese-speaking adults who learn English as a second language. The first stage of data analysis has been completed. The results show that all five training methods were effective in improving vowel perception. The data also provide insights into factors that facilitate second language speech acquisition.
The laboratory will disseminate the research findings this month and provide information on English vowel articulation. Please find the details below.
Date: June 30, 2018 (Saturday)
Time: 2:30 pm – 4:00 pm
Venue: Rooms 408-410, 4/F, Meng Wah Complex, The University of Hong Kong (Map: https://goo.gl/qJGzzr)
The presentations will be in Cantonese.
Please register at https://goo.gl/QZzheo. Seats are limited. We will send you an email to confirm your registration. For enquiries, please email us at pwlab@hku.hk or call Miss Zhen at 3917 7623.​
TOP