Left Menu
Master of Education (MEd) Information Session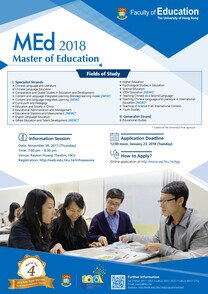 | | |
| --- | --- |
| Date | November 30, 2017 |
| Time | 19:00 - 20:30 |
| Venue | Rayson Huang Theatre, HKU |
| Media | |
Registration
---
Are you struggling to plan your life-long career and don't even know where to go?
The Master of Education (MEd) programme at the University of Hong Kong will give you a master-key to unlock just about any career door. The MEd is a year-long intensive programme for full-time students or a two-year part-time programme, which is suitable for those already working in education or related fields. To enhance flexibility, we offer 20 specialisms. Students may tailor their study to their own interests and enroll in a variety of courses offered by our teaching staff who are experts in fields including international education, learning diversity, Chinese language and literature, English education, technology studies, mathematics and science education, and educational policy and social foundations of education.
Our MEd programme features strong theory-practice integration, problem-based and project-based Moodle online and blended teaching and learning, English is the medium of instruction except for Chinese language specialisms, and the programme attracts a vibrant, multicultural and international community. Some specialisms have internships and/or practicum to better prepare students for front-line jobs. Graduates can work and study further in Hong Kong, Mainland China and globally. Those graduates with Distinctions in their Master's degree have the chance to apply for the Hong Kong PhD Fellowship (HKPF) to pursue further studies in Hong Kong.
Whether you are looking to expand or change your career options as well as to engage in rigorous academic study, our MEd programme offers something for you.
I. Specialist Strands
Chinese Language and Literature

Chinese Language Education

Comparative and Global Studies in Education and Development

Content and Language Integrated Learning (Blended-learning mode)

[NEW]

Content and Language Integrated Learning

[NEW]

Curriculum and Pedagogy

Education and Society in China

Educational Administration and Management

Educational Statistics and Measurement

[NEW]

*

English Language Education

Gifted Education and Talent Development

[NEW]

*

Higher Education

Psychological Studies in Education

Science Education

STEM Education

[NEW]

*

Teaching Chinese as a Second Language

Teaching Chinese Language and Literature in International Education

[NEW]

*

Teaching of Science in an International Context

Youth Studies
II. Generalist Strand
·
Educational Studies
*Subject to the University's final approval
Wish to know more? Please visit the website at http://web.edu.hku.hk/programme/med and join our Information Session for more details:
Information Session
Date: November 30, 2017 (Thursday)
Time: 7:00 pm – 8:30 pm
Venue: Rayson Huang Theatre, HKU
Online Registration: http://web.edu.hku.hk/infosessions

Application Deadline: 12:00 noon, January 23, 2018 (Tuesday)
Enquiries:
Tel: 3917 1951 / 3917 2533 / 3917 5712
Email: medu@hku.hk
Website: http://web.edu.hku.hk/programme/med
TOP