Left Menu
Engaging Researchers in Research Identity Data Curation: An Exploratory Study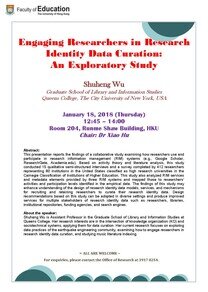 | | |
| --- | --- |
| Date | January 18, 2018 |
| Time | 12:45 - 14:00 |
| Chair | Dr Xiao Hu |
| Speaker | Dr Shuheng Wu |
| Venue | Room 204, Runme Shaw Building, HKU |
| Media | |
---
Engaging Researchers in Research Identity Data Curation: An Exploratory Study
Shuheng Wu
Graduate School of Library and Information Studies
Queens College, The City University of New York, USA
January 18, 2018 (Thursday)
12:45 – 14:00
Room 204, Runme Shaw Building, HKU
Chair: Dr Xiao Hu
Abstract:
This presentation reports the findings of a collaborative study examining how researchers use and participate in research information management (RIM) systems (e.g., Google Scholar, ResearchGate, Academia.edu). Based on activity theory and literature analysis, this study conducted 15 qualitative semi-structured interviews and a survey completed by 412 researchers representing 80 institutions in the United States classified as high research universities in the Carnegie Classification of Institutions of Higher Education. This study also analyzed RIM services and metadata elements provided by three RIM systems and mapped those to researchers' activities and participation levels identified in the empirical data. The findings of this study may enhance understanding of the design of research identity data models, services, and mechanisms for recruiting and retaining researchers to curate their research identity data. Design recommendations based on this study can be adopted in diverse settings and produce improved services for multiple stakeholders of research identity data such as researchers, libraries, institutional repositories, funding agencies, and search engines.
About the speaker:
Shuheng Wu is Assistant Professor in the Graduate School of Library and Information Studies at Queens College. Her research interests are in the intersection of knowledge organization (KO) and sociotechnical systems, applying them for data curation. Her current research focuses on exploring data practices of the earthquake engineering community, examining how to engage researchers in research identity data curation, and studying music literature indexing.
~ ALL ARE WELCOME ~

For enquiries, please contact the Office of Research at 3917 8254.
TOP