Left Menu
Doctor of Education (EdD) Information Session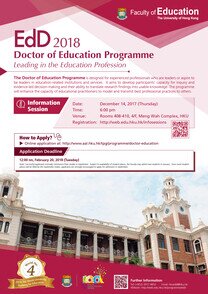 | | |
| --- | --- |
| Date | December 14, 2017 |
| Time | 18:00 - 20:00 |
| Venue | Rooms 408-410, 4/F, Meng Wah Complex, HKU |
| Media | |
Registration
---
The Faculty of Education is now inviting applications for admission in September 2018 to the Doctor of Education (EdD) Programme (full-time and part-time).

The EdD programme is designed for experienced professionals who are leaders or aspire to be leaders in education-related institutions and services. It aims to develop participants' capacity for inquiry and evidence-led decision-making and their ability to translate research findings into usable knowledge. It will enhance the capacity of educational practitioners to model and transmit best professional practices to others.

The EdD programme is a professional doctorate consisting of structured and integrated coursework and research components that can be used to support high levels of understanding and investigation of issues relevant to the practice of education. It offers principal areas of study deriving from the Faculty's Academic Division groupings:

• Chinese Language and Literature
• English Language Education
• Information and Technology Studies
• Learning, Development and Diversity
• Policy, Administration and Social Sciences Education
• Mathematics and Science Education
• Speech and Hearing Sciences

Details of research areas are available via

http://web.edu.hku.hk/programme/edd/areas_of_study

.





For details of the programme, please register for our Information Session:





Information Session




Date: December 14, 2017 (Thursday)




Time: 6:00 pm




Venue: Rooms 408-410, 4/F, Meng Wah Complex, HKU




Registration:

http://web.edu.hku.hk/infosessions





Application Deadline: 12:00 noon, February 20, 2018 (Tuesday)





Enquiries:


Tel: 3917 4852
Email:

hkuedd@hku.hk




Website:

http://web.edu.hku.hk/programme/edd/






Note: Successful applicants normally commence their studies in September. Subject to availability of student places, the Faculty may admit new students in January. Since most student places will be filled by the September intake, applicants are strongly encouraged to apply for admission in September.
TOP